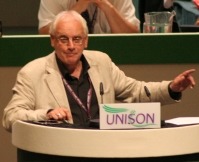 An open celebration of John's life will be held on 30th April at 1pm, at the Royal College of Physicians of Edinburgh 9 Queen Street, EH2 1JQ .
Morag, John's wife, wants us to know its an open celebration and would love to see us – everyone is welcome. The family asked if we can wear or acknowledge UNISON colours at the celebration.
As many of you already know, our comrade John Stevenson passed away peacefully at Edinburgh Western General Hospital on Wednesday 6th April 2022. Please read more about John's life here
Donations, if desired, to the Nelson Mandela Scottish Memorial Foundation which was a cause close to John's heart.