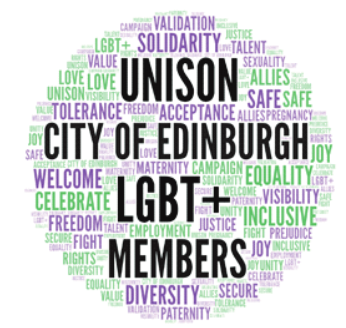 LGBT+ group meetings
There's a Teams drop-in meeting 1200-1300 the fourth Wednesday of every month:
26th July 2023
23rd August 2023
27th September 2023
25th October 2023
22nd November 2023
Email LGBTPlus@unison-edinburgh.org.uk for invites…
And we have at least two socials each year.  Next is a 'Let's ride the tram for a curry in Newhaven' on Friday 7 September.   Plan is Dreadnought pub from 1700 and Rishi's Indian from 1830.  Contact LGBTPlus@unison-edinburgh.org.uk if you're joining us!
Lesbian, gay, bisexual and transgender people are still denied equality in the workplace – too often we face discrimination and harassment instead of a fair deal. Joining UNISON gives you a voice in Britain's biggest public services union, which is committed to working for LGBT+ rights.
Lesbians, gay men, bisexual and transgender people in UNISON organise locally and nationally to support each other, to identify discrimination, to increase awareness of LGBT+ rights and to campaign for change. There are LGBT+ committees and conferences at UK and Scottish level and provision for an LGBT+ group at branch level. Contact the branch here if you would like to get involved.
Online Resources
Updates | UNISON UK LGBT+ | UNISON Scotland LGBT+  
LGBT+ officer
The branch's LGBT+ officer is Don Naismth
Contact Don via the branch office by phone or email here.

Updates