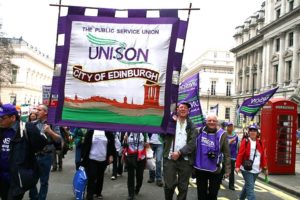 From the branch formation in 1996, the branch had been getting by with an interim PVC banner. The new banner was long overdue but it took time to find the kind of design we wanted and the person to make it.
The branch was keen to marry the traditional banner making skills with a more modern design.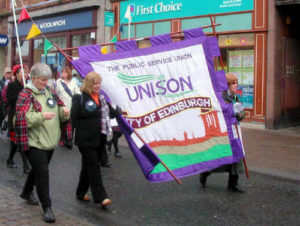 Eventually we found a member able to match the brief for an applique banner that would give an instantly recognisable but individual and quality image.
Given the range of services our members work in, including council, related bodies and the voluntary and community sector, we also wanted the banner to depict a generalised image of Edinburgh.
The banner is in satin applique. The edges and logo are in the UNISON colours of purple and green with the 'Edinburgh' scroll reflecting the city's dark red livery.
Depicting the city vista from Calton Hill, the skyline is in merging browns and greens to reflect the feel of Edinburgh's green areas and the warm and varying shades of sandstone buildings.
The design by John Stevenson (Branch Communications Officer) was created painstakingly over several months by branch member Morag Stevenson.
The previous NALGO Lothian Region, NALGO Edinburgh District and NUPE Edinburgh No 1 branch banners were donated to the People's Story Museum, Royal Mile, and are on show there. See a video about the old and new banners in youtube.
Old banners
The previous branch banners below are now with the People's Story Museum in the Canongate, Edinburgh.