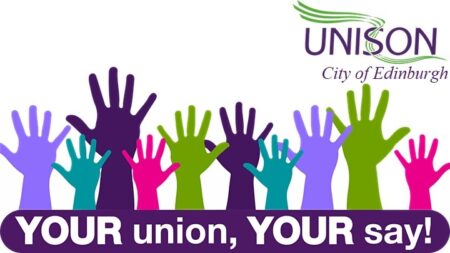 The UNISON City of Edinburgh Branch Annual General Meeting (AGM) will take place online due to the current health protection measures.
The AGM is an important meeting for all members. It provides an opportunity for you to ask questions about the work of the union, you can see how branch finances have been used and you can help to set policy and agree priorities for the year ahead.
The AGM also provides an opportunity for you to elect officials to lead the branch and represent your interests.
Hold the date
Tuesday 22nd February 2022, 18:00 – 19:30
Thursday 24th February 2022, 12:30 – 14:00
Members need only attend one meeting. The meetings will be held online via Microsoft Teams, a link will be sent to you closer to the date of the meeting along with instructions on how to access the meeting.
Electing your Branch Officials
One of the most important functions of the AGM is to elect officials to lead the branch for the year ahead. A whole range of different posts are available in the branch, each one carries a really important set of responsibilities.  Whether you are face to face with managers in negotiations, representing members in a disciplinary, or helping members with a welfare claim, all are necessary to create an effective union team.
Election of Branch Officials
You can nominate yourself or other members for any of the following roles:
President, Chairperson, Vice Chairs (2), Secretary, Assistant Secretary, Treasurer, Service Conditions Co-ordinator, Service Conditions Convener, Service Conditions Officers (5), Equalities Officer, Health & Safety Officer, International Officer, Welfare Officer, Communications Officer, Education Officer, Recruitment/Membership Officer, Lifelong Learning Officer, LGBT+ Officer, Black Members Officer, Women's Officer, Young Members Officer, Environment Officer, Auditors (2)
If more than one nomination is received for any post an election will be held where all members of the branch are invited to vote to select the preferred candidate. In the event of an election, voting papers will be circulated in advance of the AGM and returned before the AGM with the outcome announced at the AGM.
Nominations should be received in the branch office by NOON Wednesday 12th January 2022. Please click here for a nomination form.  Contact the branch office for a word version.
Motions and Rule Changes
If you would like to submit a motion for consideration or a change in the rules of the branch, please do so by NOON Friday 14th January 2022. Please click here for a Motion/Rule change form.
Access Requirements
We recognise that to ensure all our members can fully participate it may be necessary to make adjustments. If you require any adjustment, please contact the branch and we will discuss your requirements.
Tom Connolly
Branch Secretary