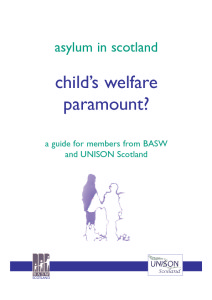 First published in 2006, this ground-breaking guidance was designed to provide a framework for ethical practice for UNISON and BASW members in Scotland (co-written by UNISON Edinburgh's John Stevenson) who are social work and social care practitioners and who are providing a service to the children of asylum seeker families or to unaccompanied asylum seeker children. Click here or on the graphic for a PDF.
The guide was based on the principles that:-
• Asylum seeker children living in Scotland have the same rights under Scottish legislation as any other child living in this country and the local authority has the same duty towards them.
• Social workers employed by local authorities to provide services to children and families have a statutory duty to protect the rights and interests of all children.
• The SSSC Codes of Practice for social workers and employers describe standards of professional conduct and the practice required of social service workers in Scotland; and the responsibilities of employers to support and regulate these standards. The Codes inform ethical practice with all service users including asylum seeker children and their families.
• BASW members are also bound by the BASW Code of Ethics.
• All policies and procedures established by the Scottish Executive and individual local authorities in respect of the welfare and protection of children apply equally to the children of asylum seekers and to unaccompanied asylum seeking children.