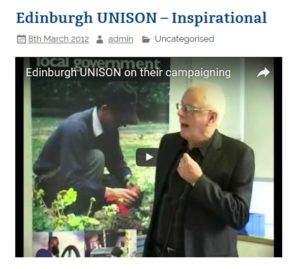 The Branch was proud to be asked to Barnet UNISON's AGM to speak on the 'Our City's Not For Sale' campaign last week. Barnet is facing a huge drive to privatisation without even an in-house option and has been mounting an imaginative campaign of research publicity and industrial action. See local press coverage of the visit in the Barnet and Potters Bar Press (p5 and 6) at http://edition.pagesuite-professional.co.uk/digitaleditions.aspx?tab=0&pid=f8297918-4e99-4dfb-9199-5ba5cfd6d926 and video coverage at http://www.barnetunison.me.uk/wp/2012/03/08/edinburgh-unison-inspirational/
Barnet UNISON members were on strike for the fourth time on 9 February – and as in previous action they used the day to support the local community whose services they are dedicated to supplying.
A team of members on strike left the pickets lines to donate their labour to the 'Larches Community' a charity in Edgware which provides services for adults with learning difficulties. This repeated the support members gave to the charity during the last strike action in October.
The privatisation could see 70% of staff losing their jobs or being transferred to private companies. Ultimately, council bosses want to reduce the authority's workforce to just a few hundred commissioning staff.