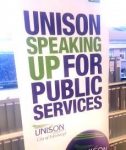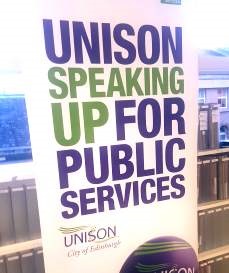 As Edinburgh council announces budget plans, UNISON, the largest union in the council, is warning that the effect of year on year cuts now threatens the council's ability to meet its statutory duties.
Tom Connolly, UNISON Edinburgh branch secretary, said: "We hear much about the council having to set a legal budget. We hear less about it failing to meet its statutory duty to provide services.
"Of course the reduced cut from the Scottish government is welcome this year but it still means a standstill budget and it can't hide the huge cuts that are inevitable.
"The Scottish government, while talking the talk about beating austerity, have in fact handed it down to local government. Edinburgh has lost £250m in cuts – a quarter of its previous budget – in the last five years. Nine out of 10 of all the austerity job cuts have come from local councils."
The union is flagging up the situation in home care as an example of the human effect of cuts. A UNISON survey of Health and Social Care staff last year revealed an overworked staff group with morale at an all-time low.
A worker quoted in the survey said: "This has caused me anxiety at work which is affecting my home life. I am constantly concerned that I am going to miss something important which results in serious harm/death to a client."
Tom Connolly said: "Quotes like that show the human effect of cuts. The council's own figures show that there are over 7,000 hours of unmet care needs. By our calculation that means there are about 200 fewer jobs than there should be. That's the real effect of cuts. In local government, you cut the people, you cut a service."
"Councillors have as much of statutory duty to the people waiting for care as they have to set a legal budget and we will be urging them to respect that duty."
UNISON says the picture is the same across the council with staff overworked covering for job cuts and morale as low as it has ever been. It plans to campaign to make the public more aware of the services council provide.
John Stevenson, UNISON Edinburgh president, said: "The public rightly get angry about potholes and refuse collection issues. They often don't equate that to the fact that the council has been starved of funds year on year. But patients and their families waiting for a care package have understood the effect of cuts only too well over the last few years.
"We need to get the message out that there has been a silent slaughter of council services by the Scottish government and we are not going to let them get away with putting all the blame on councils."
"We will lobby the council budget meeting next week and will again urge the council to publish a parallel budget to show the people of Edinburgh what services could look like if they were properly funded."