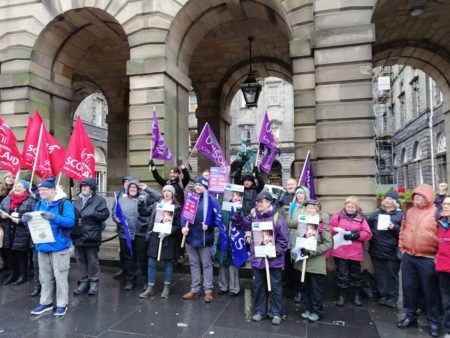 Joint Trade Unions Staff Side Secretary February 2020
City of Edinburgh Council Budget Response
The trade unions have serious concerns about the negative impact of all previous cuts and the further negative impact of the next three year's cuts are likely to have. More Jobs lost in the City Council, service provision reduced or lost, funding to the third sector cut.
The continuous cuts, and they are predominately cuts, not savings, have had and will continue to have negative consequences for our most vulnerable children, young people and families, the elderly, the disabled and all who reside in the areas of greatest deprivation in our city.
Vulnerable people sitting at home without social care provision is something that this city must be ashamed of, is this transformational, is this efficient, is this what it means to be lean and agile? is this what Change looks like?
Your staff are continuously being asked to do more with less.
Our members have and always will work hard to deliver the vital services they provide to the public. However, your staff and the services they deliver at are breaking point, staff are overworked and under resourced.
Staff have found themselves overstretched and unable to access the resources that they need to carry out their work safely. Services are becoming too thin and too fragile. It is hardly a surprise that the main cause of sickness absence across the council is work related stress and other mental health related illness.
Our most vulnerable and disadvantaged children and families and other underprivileged groups are regularly experiencing the destruction of the services that they need, relay and depend on. How does this sit with the council pledge and Scottish governments position, to give every child a good start in life and to reduce poverty, inequality, and deprivation?
Your budget gives no real indication of Equality and Gender Impact Assessments being effectively carried out, and if they have how have these informed the recommendations in front of you, or the decisions that you may ultimately make.
The most disadvantaged and most vulnerable tend not to be consulted at all, therefore the least powerful and vulnerable individuals and communities continue to be disproportionately disadvantaged.
There is a real risk that this local authority continues to not fully meet its Public Service Equality Duty.
The council has encouraged trade union members and city residents to participate in completing their Budget Calculator. The returns are very low but spun to appear significant and worthwhile.
Staff are being invited to attend sessions to complete the budget challenge. This activity plays staff and services off against each other and cynically gives the employer some bizarre ability to say that the staff had been consulted. There is no capacity for people to challenge the status quo and say no to cuts, our members have told us that they have to felt very uncomfortable taking part in the process.
Management and elected representatives use the returns to claim that their employees and the public decided what should be cut.  This is a negation of senior management and the elected member's responsibilities. As previously stated, there is no capacity to challenge the current austerity agenda, but only the capacity to work on the belief that cuts to jobs and services are inevitable. What is needed is a huge paradigm shift and investment in public services.
The trade unions will resist further cuts and any attempt to outsource services. We will not accept attacks on our members terms and conditions, and we will work alongside and provide resources where and when necessary to the citizens of Edinburgh and their community groups in any campaign to protect the services they need.
Those who work in the public service are more than aware of what is needed to provide meaningful, dedicated and professional public services.
It was not Public service workers or the general public who caused the problem in the economy, but the large financial institutions. Their failures resulted in a massive bailout and the retention of their huge salaries and bonuses. Public services on the other hand are being cut to the bone.
The cuts to public services won't work.
The redundancy costs and knock-on effects on employment, growth and tax revenue will make the situation worse.
On average, every redundancy creates £29,400 in additional costs to the public sector as well as undermining morale and productivity.
Most of the cost of employing a public service worker is recouped by the state through increased tax revenues and reduced benefit payments.
Economic research shows that for every pound spent on local public services, 64pence is re-spent in local economies, supporting jobs and businesses.
Last year the Westminster block grant was reduced by over 1.8%, but the Scottish government made a real term cut of over 7.1% in the funding to local authorities.
This directly impacts on the capacity of local government to provide credible services. More jobs will go in the next three years; this is on top of the 1000 that have already gone.
The former cabinet secretary Derek McKay was clearly out of touch with the situation affecting local government and it appears that the remainder of that administration are the same.
The silent slaughter of Local Government needs to stop, enough is enough.
As always, the trade unions will continue to engage in meaningful dialogue with the administration and council officers, but we will not participate in a manner that encourages cuts to public services or undermines or diminishes the terms and conditions of our members.
Tom Connolly
Staff Side Secretary