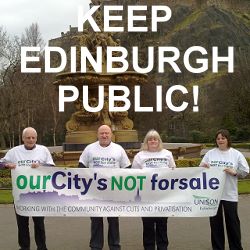 Edinburgh Council's privatisation plans are clearly under pressure. The Council look as though they will be forced to delay making a decision until September or October. The bidders have missed the deadline and the council are trying to cover up weaknesses in their process.
With costs so far spiralling to over £3.5 million, the council could well be heading for another trams fiasco.
One of the firms at the centre of plans to outsource Edinburgh's services was last week dumped for poor performance by Glasgow. Enterprise, which is also one of the two last bidders in Edinburgh's outsource plans, was dumped from Glasgow's plans for glass recycling due to poor performance.
It may be bad news for them but the news is good for us. Two newspapers carried articles critical of the councils plans this week (see below) and The Times has tried to contact organisers of the last week's Meadowbank meeting.
It is the efforts of people like you, leafleting and organising meetings, that is making the difference. To help support further residents' meetings and leafleting UNISON City of Edinburgh Branch has agreed to provide practical support, eg with premises and publicity.
Just get in touch, details below.
Evening News article http://edinburghnews.scotsman.com/news/Citys-1bn-privatisation-a-worse.6811552.jp
The Herald article http://www.heraldscotland.com/news/home-news/1bn-privatisation-plan-could-be-worse-than-the-trams-1.1115215
Local Fete or Gala?
We would love to get along with a stall or a handful of leaflets, just let us know when and where.
Where do you and your friends go?
We have some brand new leaflets, can you take them to your community centre, other hub or even the pub? Get in touch, details below.
We can win
Why not come along to one of the 3 stalls happening this Saturday?
Saturday 6 August
Leith: 1pm at the Kirkgate at the foot of Leith Walk.
Call Duncan 07890 422 048
Southside: 1.30pm outside Tescos, 94 Nicolson St
Call Graham – 07404 026 565
Portobello: 12 – 2pm. On the High St outside Bank of Scotland/Halifax
Call Mary 07950 254 208
Sunday 7 August Door to door leafleting in city centre. Meet 1pm at HMV West end of Princes St
Tuesday 9 August "Spurtle" City Centre Election Hustings – quiz the candidates and hand out leaflets. 7.15 pm, Broughton St Mary's Parish Church, Bellevue Crescent.
Thursday 11 August Southouse/Burdiehouse Residents Meeting 7- 9 pm, Valley Park Community Centre, 37 Southhouse Road, EH17 8EU Going to the Festival? Why not go along to Mobilise a week-long festival event.
13 -20 August 2011. UNISON Scotland is taking an unprecedented move of bringing the anti-cuts movement into the heart of the Edinburgh Fringe Festival. During the whole week of 13 to 20 August there is the Mobilise Festival combining activist workshops, street action (a "Picnic Against Privatisation" on 13 August) and top notch comedians.
All the daytime events are free and the cost to see the comedians playing in the evenings is much cheaper than their Fringe shows. For information and booking www.mobilisefestival.co.uk
Alternative action: how about…… Get in touch with your councillor. Tell them what you think of the privatisation plans. Write to the Evening News- especially if you see an article about ABMs
Sign the online petition: http://www.ipetitions.com/petition/ourcitynotforsale/
Get in touch Tel 0131 220 5655 Email: branchoffice@unison-edinburgh.org.uk
For a great video about their proposals go to: https://youtu.be/K78wf25HWWs
Twitter: @unisonedin
Facebook: http://www.facebook.com/unison.edinburgh
Check out the website for full details http://www.unison-edinburgh.org.uk/