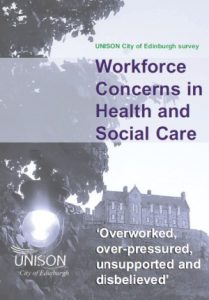 A UNISON survey of Edinburgh Council's Health and Social Care workers has concluded that they feel 'Overworked, over-pressured, unsupported and disbelieved'.
The survey of UNISON members who are social workers, home care staff, occupational therapists and support staff was carried out in earlier in 2017 and reveals that 85% of respondents would be prepared to take some form of industrial action due to excessive workloads.
The report says: "Many members stated they take on more work than they can safely manage because of their sense of obligation to the service users and to their colleagues."
A third of respondents said they were not receiving the supervision required by Scottish Social Services Council codes of conduct.
The survey also discovered that staff were calling in sick with 'flu or colds when they were in fact afraid to reveal they were suffering from stress or other mental health conditions. Over half of respondents (52%) said they had experience work-related illness.
Kirsten Hey, UNISON Health and Social Care steward, said: "The survey It gives a flavour of a workforce at times reeling under the pressures but committed to the services they provide and the people who depend on them.
"We know that these problems cannot be solved overnight and the core issue is Westminster and Holyrood funding. We welcome the fact that that interim director Michelle Miller and Councillor Rickie Henderson have spoken out about the critical funding issues, but they also need to take account of the problems in the here and now and do something about it."
Tom Connolly, Edinburgh UNISON branch secretary, said: "The mismatch between resources and growing need for health and social care services is well documented.
It is also widely known that this has been exacerbated by councils in Scotland being starved of funds. The City of Edinburgh Council has had to cut £240 million over the last five years along with predictions of another £140 million in the next five years.
"With around 1,000 jobs gone in the council, what is less well documented is the effect on the staff who are left behind trying to deliver essential services. This report reveals the human cost of those cuts."
Some of the comments from respondents were particularly telling. For example:
On the critical loss of experienced staff…
"Transformation has resulted in a mass exodus of experienced staff, with obvious consequences for the staff who have remained."
"The majority of staff are experienced workers, and almost half are approaching retirement or early retirement. We believe that the partnership should consider how to recruit and retain younger workers as a priority"
On the effects of unmanageable workloads…
"I have discussed my mistakes with my senior and manager who were not bothered by any of it. As I am a good worker they brushed them under the carpet rather than question why I am making these mistakes – too much work."
And on a culture of pressure due to lack of resources…
"This is not business as usual – many of us have years of experience with the City of Edinburgh Counci and this is not the norm. Something has changed towards a 'tough luck, you just need to do it or leave' attitude."
"This has caused me anxiety at work which is affecting my home life. I am constantly concerned that I am going to miss something important which results in serious harm/death to a client."
"My caseload is 38 which is highest it has ever been. Due to staff shortages, people leaving and subsequent need to absorb their cases I am overwhelmed with the level of work. I am terrified of missing something which causes anxiety and constant stress. I can say with conviction that something will happen as we are putting people at risk."