Dear Members,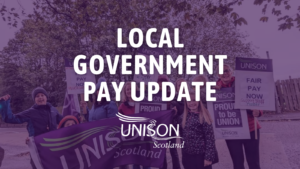 We have some crucial information to share regarding the upcoming strike day on Wednesday, 8th November.
The last thing we want is to cause disruption for pupils and parents, but school staff have been left with no other option.
Workers are taking action because they want children to be educated in well-resourced, well-staffed schools and they want to start trying to reverse the years of under-investment in both the workforce and services.
While no deal has yet been reached, we continue to have constructive dialogue with COSLA and we remain committed to resolving this dispute as soon as possible.
When to Join the Picket Lines:
Picket lines should be formed at your workplace and start no later than 8 AM, running until 12 noon. We understand the importance of minimising disruption for pupils and parents, but this strike is necessary to fight for the future of our schools.
Progress and Dialogue:
While we haven't reached an agreement yet, we are actively engaged in constructive dialogue with the Scottish Council Employers (COSLA). Rest assured, we remain fully committed to resolving this dispute as soon as possible.
Demand for an Acceptable Pay Offer:
The primary purpose of this strike action is to compel COSLA to provide a fair pay offer for 2023. Our dedicated council workers in Scotland deserve nothing less.
Picket Line Contacts:
UNISON members can organise picket lines at your workplace. We will assume that the picket contacts from September will continue in their roles. If your school did not have a picket in September but wishes to participate on Wednesday, 8th November, please inform your branch at branchoffice@unison-edinburgh.org.uk – Picket contacts will receive an official UNISON picket letter, ensuring lawful picketing is approved by the union at Council premises.
Placards / Flags, Etc:
If you have retained your placards and flags from previous strikes, that's fantastic. However, if you need additional stock, we have some available at the branch office. We regret that local deliveries are not possible due to limited resources, but you can arrange to collect them from our branch office. Email us at branchoffice@unison-edinburgh.org.uk to confirm a suitable time.
Branch Office Address:
Broadside 2, Powderhall Rd, Edinburgh EH7 4GB
Picket Line Timings:
Remember, pickets should begin no later than 8 AM and conclude at 12 noon.
Strike Pay:
The same rules apply for this strike day. Payment is set at up to £70 per strike day. We will provide a process to help members claim this pay, including a web form. Please be prepared to show proof of deduction.
Violence at Work Survey:
Finally, if you haven't already, please take a moment to fill out our violence at work survey. It's quick and will greatly assist in shaping the UNISON campaign: https://survey.alchemer.eu/s3/90535712/UNISON-Violence-at-Work
We appreciate your continued support and dedication to our cause. Let's stand together for the betterment of our schools and services. Your participation is vital in bringing about positive change.