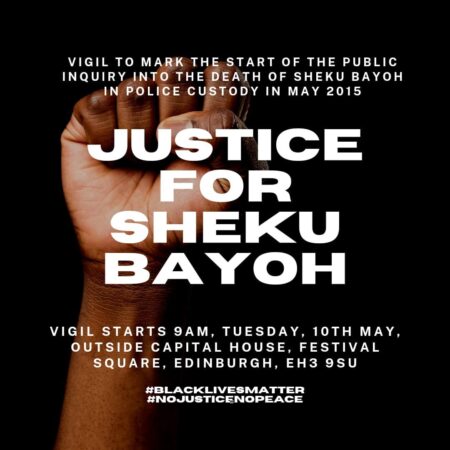 Vigil Tuesday 10th May, 9am to 4.30pm,
Capital House, 1 Festival Square, Edinburgh
The inquiry into the death of Sheku Bayoh in police custody in Kirkcaldy in May 2015 is due to start on 10 May 2022. This inquiry will begin 7 years after his death and is only being conducted due to the tireless campaigning by his family and friends.
A vigil will be held outside Capital House, Festival Square, in Edinburgh at 9am, where the inquiry will be taking place.
Join Sheku's family, friends and campaigners who will come together to demand truth and justice after years of delay and struggle.
Please come along if you can.
Follow the campaign on twitter @BayohJustice
#ShekuBayoh #Justice4Sheku