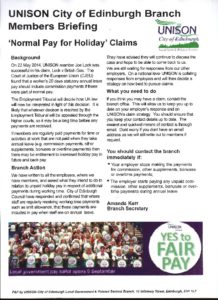 A decision by the European Court of Justice could mean employees who normally get paid enhancements like overtime, shifts and commission – but not when they are on holiday – might be able to make a claim for back money.
It is not clear how many members may be affected (Edinburgh Council has stated that all employees regularly receiving working time payments like shift allowance also get those in with their holiday pay). However the Branch is writing to all the all of the employers where we have members as follows:-
"NORMAL PAY FOR HOLIDAY CLAIMS
On 22 May 2014, UNISON member Joe Lock was successful in his claim, Lock v British Gas. The Court of Justice of the European Union (CJEU) found that a worker's 20 days statutory annual leave pay should include commission payments if these were part of normal pay.
The Employment Tribunal will decide how UK law will now be interpreted in light of this decision.
Can you please confirm if your organisation pays staff additional payments during their annual leave periods, and if it does not, what will be done to rectify this?
How have you calculated those who worked overtime or additional hours and included that in their holiday pay?"
In the meantime, any member who believes they may have a claim should email the UNISON office with your details to branchoffice@unison-edinburgh.org.uk
You can also phone 0131 558 7488 but it is better for us to have emailed details from you so that there are no misunderstandings.