In a resounding display of unity and determination, UNISON City of Edinburgh has sent an open letter to all elected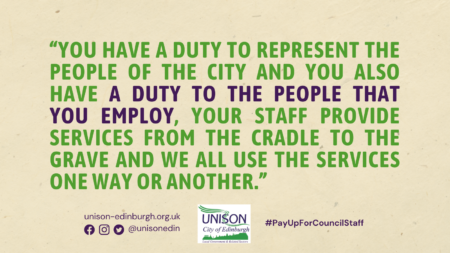 councillors ahead of the upcoming full council meeting on Thursday, August 31. The letter, which you can read in full below, emphasises the overwhelming mandate UNISON members have given for strike action. The members' resolute stance stems from years of enduring below-inflation pay awards and wage freezes. UNISON's appeal to the councillors highlights the vital role played by the council's workforce across various services, and it calls for a fair and meaningful pay award that recognises their dedication and contribution. As members in schools gear up for mass strike action, we call upon the councillors to rally behind our cause, demonstrating their commitment to fairness, equality, and the well-being of those who shape the city's present and future. Council workers. Our members.
—————————————————————–
Dear Councillors,
UNISON Members Vote to take industrial action.
As you will all know by now last Friday UNISON members Schools and Early years voted overwhelmingly to reject the latest pay offer of 5% and are prepared to take industrial action in respect to our pay claim.
The constituency balloted returned a vote of 62.24% thrashing the anti-trade union legislation that trade unions must return at least 50%. Ironically only 47.2% of the public in Edinburgh voted for the current make up of this council with only six out of the 17 council wards achieving over 50%.
You have a duty to represent the people of the city and you also have a duty to the people that you employ; your staff provide services from the cradle to the grave and we all use the services one way or another.
Throughout the period of austerity local government workers faced wage freezes and below inflation pay awards with the result that wages post-austerity are now 20% lower.
During COVID our members in schools went into work to look after key workers' children, our members in refuse cleaned the streets and disposed of contaminated waste, our admin members adapted their homes to create make-shift office spaces to process the vital functions associated with benefits and the provision of care and, last but by no means least, our members in Homecare and those working in residential care put their own and their families' health and lives at risk to care for and look after the most vulnerable children and adults.
During COVID the great and the good and many others would on a Thursday evening go out and clap, bang pots and pans, all in support of the vital public sector staff. That itself is a thing to be welcomed, but people working in public services need more than a clap to pay the bills.
This year this council passed and set its budget, inflation was rocketing and there was lots of talk about a cost-of-living crisis. The council budgeted only 3% for the pay award, well short of the rate of inflation:  Another potential wage cut; clapped on the Thursday then slapped on the Thursday. A cost-of-living crisis is not something new to many of our members who have had to struggle to survive on low wages most of their working lives, relying on foodbanks, benefits or welfare help from their union to get by. Clapping really doesn't pay the bills and our members are now clear that enough is enough.
We call on all councillors to ensure that the monies allocated to the pay award are increased and recognise that staff employed in the council are worth much more than you have previously recognised. We demand that the council leader takes a lead in the meetings that he attends at COSLA and stops procrastinating in moving the issue of a decent and meaningful pay award. We would also work with the council to lobby the Scottish government to allocate more funding for local government pay.
Our members in schools and early years have made it clear that they are now ready to act and will be afforded the full support and protection of UNISON. We recognise that this group of members will be acting not just for themselves, but for and on behalf of all unison members.
If you believe in the principles of fairness, equality, and a dignified standard of living, we ask that you lend your voice to our cause. Please do not consider showing up at a picket line merely for a photo opportunity unless you are fully committed to supporting our campaign for fair and better pay award. Let us stand united in ensuring that the hardworking individuals who shape our city's present and future are duly recognised and rewarded.
Our members are worth more, and we look forward to your unwavering support.
Tom Connolly
Branch Secretary
UNISON City of Edinburgh