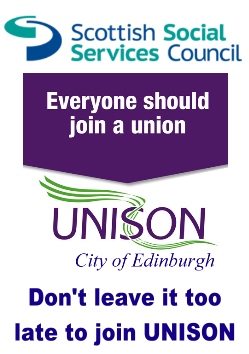 The Scottish Social Services Council (SSSC) Newsletter is reminding people "Don't leave it too late to join a union" as it reports that only 40% of people in 400 hearings had representation. (Join UNISON here)
The newsletter says: "If we are investigating your fitness to practise and you're facing an SSSC hearing we encourage you to have representation.
"We hear from people who have been through the hearing process that they have tried to join a union so they can have help, but often it is too late to join at that point. We recommend that any worker who has to go through a hearing seeks independent advice about their case and the decisions they need to make."
UNISON, like most unions, has a qualifying period for representation. Members must have been in membership of the union for at least 4 weeks prior to the incident or occurrence that leads to seeking legal assistance from the union. So don't leave it too late to join UNISON – Click here to join now!