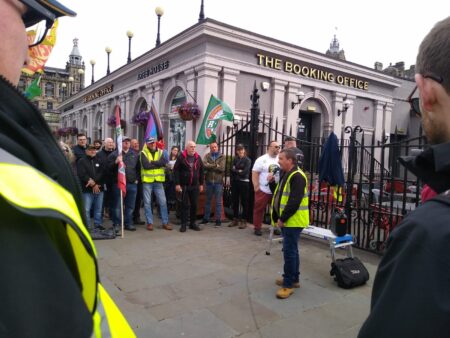 Branch activists joined the striking RMT workers on their picket line outside Waverley Station on Thursday and Saturday 18th-20th August, in a show of support and solidarity. Thursday saw striking waste and cleansing colleagues attend on their first day of strike action, following their demonstration outside the City Chambers. On both days RMT were supported by two of the acts from the Fringe festival, both highlighting their support for all striking workers.
Ian Mullen, branch Health and Safety Officer addressed Saturday's picket line saying how proud he was of the striking waste and cleansing staff in Edinburgh, that a proposed 5% offer was simply not enough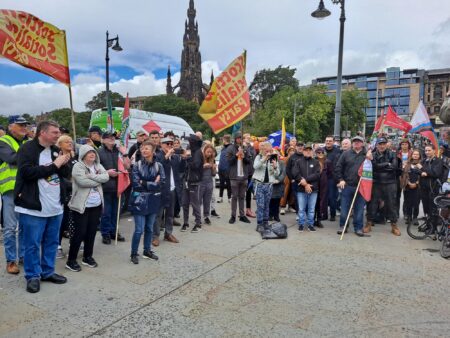 when we have had a real term cut of 20% over the last 12-years. He reiterated his continued support for RMT and CWU comrades in their ongoing struggle to secure decent pay, conditions, and job security. Ian called for an end to the Tories' 30-year anti-trade union law that see a workers right to strike removed if their union doesn't reach the 50% threshold for industrial action ballots. Both Truss and Sunak have stated in their leadership campaigns that they will directly attack trade union rights if elected as the new Tory leader and PM.
Calling on the Scottish Government to increase funding to local authorities to improve the current pay offer. Ian said that the £140million recently provided by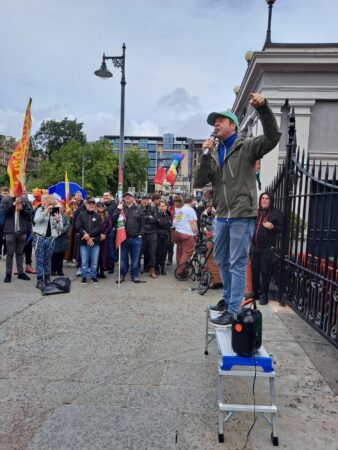 Swinney was a small spit in a large ocean, especially when the Scottish Government have underspent their central budget allocation by millions since 2016 and have put aside £20million for Indieref2, that money needs to be used now in light of the Cost-of-Living Crisis"