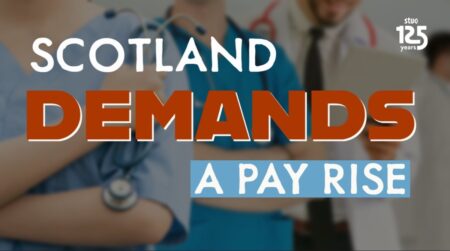 Assemble 10:30am: Johnson Terrace, EH1 2PW
March off: 11am 
Rally at the Scottish Parliament 11.30am – 1pm 
You may remember the huge Cost of Living rally that was held in London on the 18 June 2022. Our branch made representation to the STUC Cost of Living Conference on Friday 17 June 2022, where we highlighted the importance of holding the UK and Scottish Government accountable for the increasing Cost of Living. We called for a Scottish demonstration which, was acknowledged as a priority by the STUC.
It is vital that we get as many branch activists and members as possible turning up to this march and rally to give the Scottish Government and the First Minister a clear message, that we will not accept being driven into poverty. The Scottish Government has constantly underspent their central budget allocation since 2016 and have set aside £20million towards IndieRef2.
That money needs to but put to good use now, to alleviate poverty, especially when gas and electricity bills are set to increase in October. Let's send a clear message to Nicola Sturgeon, that we will not accept the increasing use of food banks, child, adult or in work poverty.
Ian Mullen
Health & Safety Convener