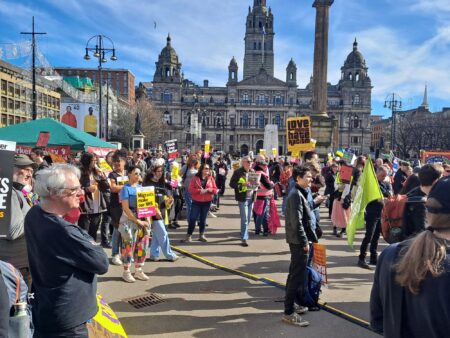 Saturday saw up to 2,000 people join the Stand up to Racism UN Anti-Racism Day rally in Glasgow. Trade unions, politicians, supporters, and various campaign groups gathered in George Square to listen to 26 speakers and entertainers.
One of the main speakers was Rakiya Suleiman, Chair, UNISON Scottish Black Members Committee, who's inspirational and compassionate speech stood out and was warmly welcomed.
As expected, many speeches highlighted the dreadful events of Russia's invasion of Ukraine and many messages of support and solidarity were sent out to our Ukrainian brothers and sisters, a small group of whom were present at the rally.
Indeed, messages of support and solidarity were sent to all refugees escaping war and deprivation throughout the world.
During the march to George Square there was lots of banners, flags, singing and chanting, with the loudest and most widely used chant being "Refugees are Welcome Here".