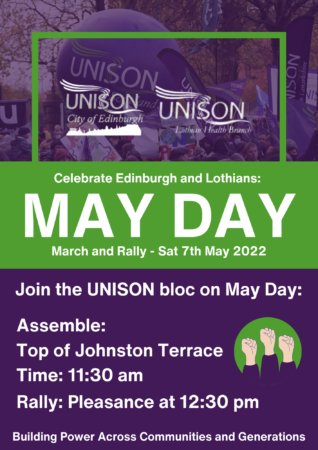 Join the UNISON marching bloc in Edinburgh this May Day. On the 7th May send a message to the Westminster and Scottish Government's – let us march in Edinburgh in numbers and show decision makers that there is strength in numbers and we march as one. They must get a grip of the cost-of-living crisis and increase public sector pay immediately!
Adding your voice to the trade union for public sector workers in Scotland makes a huge difference. With more than 160,000 members in Scotland, from social care workers, to hospital porters, caretakers, teaching assistants, nurses, security guards, all the people that keep our society running, when we bring our voices together it sends a powerful message to those at the top making decisions.
As this is a family friendly march, we also have flags available for members and kids.
Contact your local UNISON Steward for more information.