Dear member,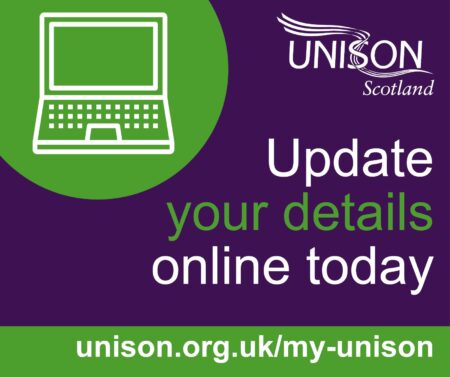 You will be aware that UNISON local government branches across Scotland were balloting members working in Schools, Early Years, Waste & Recycling for strike action. The Industrial action ballot closed yesterday at 10am.
I am extremely disappointed to report that UNISON City of Edinburgh branch has not hit the 50% ballot vote return threshold and has narrowly missed out on being able to take lawful strike action.
The Trade Union Act 2017, introduced by the Tories in Westminster, has restrictions on workers taking industrial action. This Act is an attack on trade unions and was specifically designed to prevent us from taking action. In order to take legal strike action in Scotland at least 50% of members balloted must have voted.
Frustratingly, we fell just short of the legal threshold which would allow us to take action.
Of those that did vote – 90.8% were in favour of strike action & 9.2% did not want to take strike action.
To be clear, the ballot result means that UNISON City of Edinburgh branch will NOT be able to legally proceed and take action in Edinburgh.
The branch worked extremely hard to make sure we communicated clearly with members, including: ensuring every workplace was supplied with ballot info materials, workplace visits, phone banking, text messages, online meetings, social media updates and local media / press work.
One of the areas of difficulty we have faced is that part of the requirement of the act to carry out the ballot by post. We need members to keep their details up-to-date. Please check your details and encourage your colleagues to do so too.
Next steps on pay:
UNISON has not yet ruled out re-balloting members in Edinburgh as we fell just short of the legal ballot threshold. UNISON's local government committee will meet over the next week to consider this. We will keep members updated on developments as they unfold.
9 UNISON branches did meet the threshold and there was a press release issued last night: https://unison-scotland.org/local-government-workers-vote-for-strikes-across-scotland/
What can members do next:
Please make sure that your address details are up-to-date, it is really important that we have your information: you can do this by either contacting the branch or doing it yourself online: https://www.unison.org.uk/my-unison/
As UNISON Scotland now considers what happens next, as a branch we need to consider what we can do to support the other branches who will take strike action and we will be in touch with members in due course.
We need more stewards and workplace contacts:
 The best way of getting the word out on campaigns, is with local contacts at every workplace. This is your union – will you be part of our campaigns going forward?
Our members are worth more than what is being offered in pay. Please respond to this email and we can chat to you about getting involved with your union.
The fight for a better pay rise is not over!
Kind regards
Tom Connolly, Branch Secretary