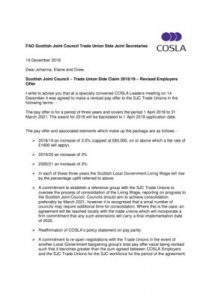 COSLA have today tabled an improved pay offer for local government workers, a move which has been welcomed by the trade union UNISON.
The improved pay offer has come after months of campaigning and negotiations by UNISON and sister trade unions (GMB and Unite) and years of below inflation pay increases. The new offer would deliver 9.5% cost of living increase over 3 years: 3.5% for 2018-19, 3% for 2019-20 and 3% for 2020-21. In addition it provides a commitment to fully consolidating the living wage, putting more money in the pockets of lower paid council workers, something UNISON has been campaigning for, for years.
UNISON have welcomed the move and it's local government committee agreed this morning to ballot their members in the new year, urging them to accept the offer.
See more details and the full offer HERE on the UNISON Scotland site
Click here for all the details about the claim, the offer and the campaign on the UNISON Scotland site