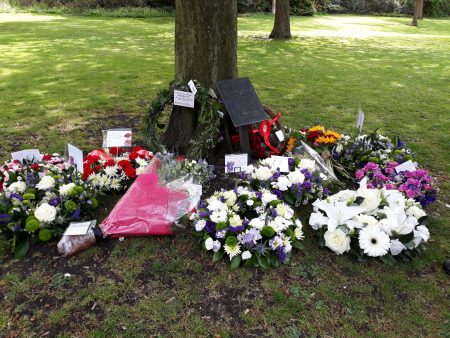 The annual Workers' Memorial Day commemoration was held on 28 April at the memorial tree in Princes Street Gardens Edinburgh. Branch health and safety convener Ian Mullen addressed the event and we print his speech in full below.
The theme of this years International Workers Memorial Day is "Taking Control Removing Dangerous Substances from the Workplace"
Every day people leave home expecting to return from their workplaces safe and well, but some don't.
Today, very few workers think that they are walking into a workplace that is potentially hazardous to their health. Continuous austerity measures and budget cuts are having a serious effect on local authorities and other public services, with reductions in health and safety training and audits being the result.
In the last two years UNISON, City of Edinburgh Branch have carried out more than thirty workplace inspections.
Highlighting concerns such as Silica Dust in community centres, increased illegal disposal of Asbestos and in one case a cancer "hotspot" were no less than fourteen members of staff have been diagnosed with cancer related illness over a twenty-year period.
The City of Edinburgh Council's answer to those findings was not to identify, reduce or eradicate those potential hazards, but to disband the Asbestos and Surveying Team, a decision which UNISON are currently challenging. A disgraceful decision taken by the council leadership team without consultation with the trade union's or impacted staff and as I look around this afternoon, I am disappointed that no elected members have attended this event to hear this.
My own experience with Asbestos was when my dad passed away fourteen years ago with a number of ailments, two of which were Asbestosis and coal dust in the lungs. The concealed side effects lasting more than twenty years. He had never been near a pit in his life, but was a heating engineer working on coal fired boilers.
There are other hazardous substances such as pesticides and chemicals which have the potential to harm and we will continue to monitor the use of these.
If we take a wider look at industrial Britain in 2017/18, the Health & Safety Executive reported 144 deaths at work. These are reported through RIDDOR only.
A more realistic figure comes from research carried out on behalf of Hazards. Their research estimates a figure of 1,500 deaths caused by work-related incidents for 2017/18 with a further 50,000 dying of work-related illnesses.
Let's look at some of the other statistics from that research:
Around 140 people die from work related accidents per day.
That is one person every ten minutes in the UK.
The International Labour Organisation estimates 2.78 million people worldwide die from work related incidents/accidents every year.
One person is killed by work related accidents every eleven seconds worldwide.
One person is killed by toxic exposure every thirty seconds.
One person in the UK dies from work related cancer every half an hour.
Britain is currently facing another "crisis" better known as Brexit. What decision's will be taken by this Tory government in relation to Employee Health, Safety and Wellbeing. We are already hearing threats from some politicians that they want to cut the "red tape" of Health & Safety legislation.
It's a well-known fact that unionised workplaces are safer and more organised. Employers have a duty of care to their employees, contractors and service users. They should never be allowed to forget that.
We should all be proud that we have recently celebrated 40 years of the Safety Representatives and Safety Committees Regulations. UNISON used these to good effect last year to call on the City of Edinburgh Council to re-introduce properly constituted Health & Safety Committees.
Today we remember our dead comrades and we stand in support and solidarity with their families and friends.
But we also stand for all those workers today and in the future especially the young who deserve healthy, safe workplaces.
Thank you.