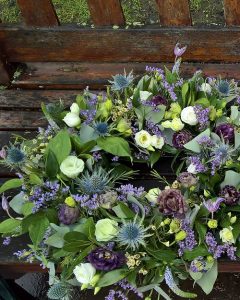 The annual Workers' Memorial Day commemoration was held on 28 April at the memorial tree in Princes Street Gardens Edinburgh. Branch health and safety convener Ian Mullen addressed the event and we print his speech in full below.
"The theme of this year's worker's memorial day is that 'unionised workplaces are safer workplaces'.
We know that workplaces where there are active trade union safety reps are twice as safe as those without. Where health and safety isn't taken seriously we know staff get injured, become ill, have their working lives cut short, or tragically die.
The Health and Safety Executive reckon that 13,000 deaths each year are linked to past exposure at work, primarily to chemicals or dust. 1.3 million people were suffering from new or long-standing work-related ill health in 2016/17. 40% of them were suffering from stress, depression or anxiety.
And public services have higher than average rates of stress, depression or anxiety. Is it any wonder when year on year workers see cut after cut and they're leaned on to do more and more with fewer resources?
They know it is a big fib that front line services can be protected with cuts like these but the pretence goes on and the pressures pile on workers.
All too often the employer's answer to the pressure's is a punitive sickness absence policy. Instead of leaning on workers, would they not be better asking themselves why they have a sickness absence problem in the first place?
A survey carried out by UNISON last year revealed that the number of violent attacks on public service staff has doubled in the past ten years. And the problem extends to the community and voluntary sector.
50% of our members – mainly women – who had experienced violence in the course of their work from the public had been physically assaulted.
• 61% had faced threatening behaviour
• 56% were verbally abused
• 56% had experienced a combination of all three
There's never any excuse for violence, but sometimes it arises from frustration because there's a need for a service that can't be met.
And unfortunately, too many employers just see attacks on workers as 'part of the job'.
There's a whole industry out there telling us health and safety regulations are just 'red tape'.
The Guardian discovered that one of them, The Red Tape Initiative, supported by the Tory Government, was actually considering a push to dismantle EU regulations on the fire safety of cladding in the weeks before the tragic Grenfell fire.
We need to keep tackling that red-tape myth'.  We can do that by lobbying and by campaigning and we need to carry on doing that.
But what brought us progress over the years was not just lobbying and campaigning – it was organising.
Building union membership. Recruiting and training more and more health and safety reps. Reminding everyone that 'unionised workplaces are safer workplaces'.
We stand today to remember the dead and to stand in solidarity with their loved ones.
But we are also here to fight for the living."