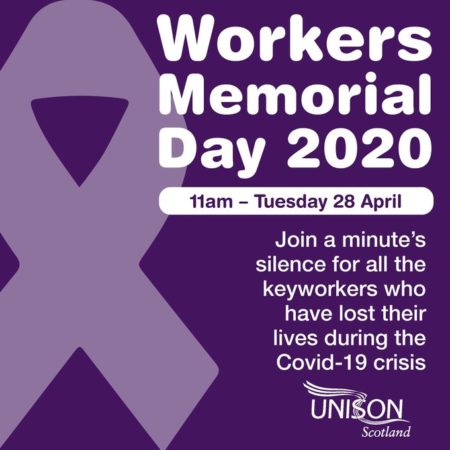 UNISON and other unions are asking you to join us on Tue 28 April at 11am for a minute's silence to honour every worker who has died from #COVID19 and other work related injuries. (see joint union press release here)
The minute's silence – held on International Workers' Memorial Day – will allow everyone to pay their respects and give thanks for the lives of those whose work involved caring, saving lives, keeping key services running and the rest of the country safe. The tribute is also a show of support for the families of those who have died.
Each year on 28 April, International Workers' Memorial Day (IWMD) is marked around the world to Remember the Dead, Fight for the Living and officially recognised by the Government.
We remember those killed, made ill, or injured by their own or someone else's work. Their pain and suffering and that of their families should not be forgotten. We also renew our commitment to, and demand once more, safe and healthy work for all.
I recent years, The City of Edinburgh Council has flown council flags at half-mast on 28 April as a mark of respect.