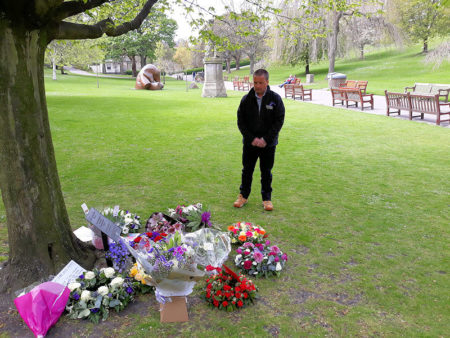 UNISON Edinburgh health and safety officer Ian Mullen laid a wreath on behalf of the branch today on International Workers' Memorial Day to honour every worker who has died from #COVID19 and other work related injuries.
A minute's silence was also observed at 11.00am to pay our respects and give thanks for the lives of those whose work involved caring, saving lives, keeping key services running and the rest of the country safe. The tribute was also a show of support for the families of those who have died.
The annual Workers' Memorial Day commemoration is held on 28 April at the memorial tree in Princes Street Gardens Edinburgh, although this year special measures were in place to ensure social distancing.
Each year on 28 April, International Workers' Memorial Day (IWMD) is marked around the world to Remember the Dead, Fight for the Living and officially recognised by the Government.
We remember those killed, made ill, or injured by their own or someone else's work. Their pain and suffering and that of their families should not be forgotten. We also renew our commitment to, and demand once more, safe and healthy work for all.