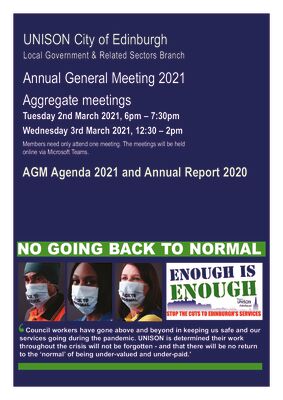 All members are urged to attend the Annual General Meeting (AGM) of the branch which will take place online via Microsoft Teams due to the current health protection measures. A link will be sent to you along with instructions on how to access the meeting.
The AGM will be held across two aggregate meetings to offer members times that may be more convenient in terms of working patterns. Members need only attend one of the meetings. If they wish, they may attend more than one aggregate meeting but may only vote at one of them and can only be included in the quorum for one of them. The meetings will be held on:-
Tuesday 2nd March 2021, 6pm – 7:30pm
Wednesday 3rd March 2021, 12:30 – 2pm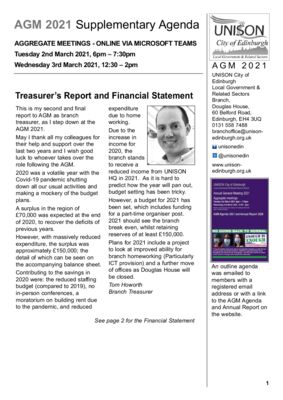 The agenda and order of business of each aggregate meeting will be identical and the results of voting will be the total of votes cast across all of the meetings. The quorum is 150 and the total number of qualifying members attending the aggregate meetings will define whether that quorum is met.
AGENDA
The agenda on the following pages (click here for PDF) includes nominations, motions and rule changes received by the closing date in the preliminary notice. Any amendments will be posted on the website and made available to members.
Amendments
Any two members can propose amendments to motions. These must be in writing and arrive at branchoffice@unison-edinburgh.org.uk by Noon, Monday 22 February 2020. Questions on the Annual Report and Financial Statement* must be received by noon on Friday 26 February to ensure the information is available for a response.
Access
We recognise that to ensure all our members can fully participate it may be necessary to make adjustments. If you require any adjustment please contact the branch and we will discuss your requirements.
A good attendance at the Annual General Meeting is essential to the running of the branch. Please make every effort to attend to set your policies and to ensure that the branch can elect its officers and have its structures in place to meet this year's challenges.
Yours sincerely
Tom Connolly
Branch Secretary
* The Financial Statement will be in the supplementary agenda.
PRELIMINARY NOTICE: A preliminary notice was published on 5th January 2021 (click here)