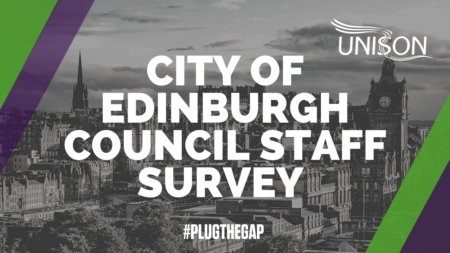 UNISON wants to know what issues City of Edinburgh council staff face so we can effectively support you to resolve them through collective action.
Please take a few minutes to fill in this short survey: https://survey.alchemer.eu/s3/90314900/UNISON-Edinburgh-City-Council-Staff-Survey
All responses to this survey will be treated confidentially and no individual responses will be shared with your employer. The survey will be open until Friday 12 March. Please feel free to share the survey with your council colleagues.
City of Edinburgh Council has suffered more than a decade of cuts and is now under severe financial strain as a result of the pandemic, with increased demand for services and a substantial loss of income. Council workers have also responded heroically to the challenges posed by covid-19.
The Scottish government will shortly be announcing their budget and UNISON's position is that they must fund local councils properly to keep communities safe and rebuild the country ​following the pandemic.  We have launched a campaign – #PlugTheGap – to call on the Scottish government to find additional resources for Scotland's councils to avoid devastating harm to services that have already suffered ten years of budget cuts.
We urge you to support UNISON's campaign and call on the Cabinet Secretary for Finance to #PlugTheGap in Local Government finance to:
Secure the long-term financial stability of local government: calling for further investment in local government to protect jobs and pay for the future.
Reward local government workers: for the vital services that local government workers provide to our communities.
Shape local government for the future: looking at how roles have changed as a result of the pandemic.
Consolidation of the Living Wage: Delivery of full consolidation of the living wage for all across Scotland
In the coming weeks UNISON City of Edinburgh branch will be ramping up our campaigning activity and you can keep up to date via our website and social media channels.
http://www.unison-edinburgh.org.uk/
https://www.facebook.com/unisonedin