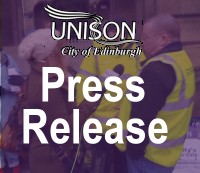 UNISON is consulting its members at Drumbrae care home over possible strike action in an attempt to save the Edinburgh-based care home from closure.
The move is the latest in a campaign by UNISON, the union for care workers, which has been campaigning to prevent the closure of five council-run Edinburgh care homes, including Drumbrae.
Four of the care homes – Clovenstone, Ferrylee, Ford's Road and Jewel House that have been earmarked for closure are due to be included in a public consultation. However, Drumbrae is excluded from the consultation as the building is due to be transferred from the council to the NHS.
UNISON, Scotland's largest union, is calling on Edinburgh City Council to ensure Drumbrae is included in the consultation as – despite the change of use for the building – it is still resulting in the closure of a much-needed local service.
Tom Connolly, Branch Secretary, said: "People need to come before profits which is why it is vital these care homes remain in public hands. UNISON understands there is a substantial waiting list for care homes in the area and if the need hasn't gone away then why should the services?
"Holding a consultative ballot of our members is the last thing we want to do, but our members are worried for the future of the vulnerable people who rely on them. These people deserve better than this – and so do the people who care for them.
Greig Kelbie, UNISON Scotland regional organiser, "UNISON is against closing public sector-run care homes and handing it over to the private sector, which under the current proposals is definitely what would happen here. The public have the right to be fully consulted on these plans and it is vital that all five care homes are included in the consultation."
UNISON will be attending a full meeting of the council today (Thursday) to make the case for a full public consultation of all five care homes.