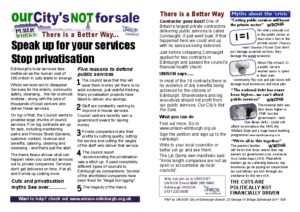 There is a Better Way…
Speak up for your services Stop privatisation. Myths about the 'crisis'.
Five reasons to defend public services
The council says that this will save them money yet there is no solid evidence, just wishful thinking. Many privatisation projects have failed to deliver any savings.
Staff are constantly working to improve in-house services. Council workers recently won a government award for saving money.
Private companies make their profits by cutting quality, cutting the service and cutting the wages of the staff who deliver that service.
The council report recommending the privatisation was a stitch up. It used completely different types of councils to Edinburgh as comparisons. Several of the shortlisted companies have been fined for "illegal bid rigging".
The tragedy of the trams.