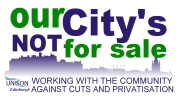 Letter in Evening News 29/7/10
In an otherwise enlightening article on council funding and privatisation (Counting the cost of public sector cuts, News, July 27), Rory Reynolds spoils it when he says "the status quo is unsustainable".
Thank goodness the government after the Second World War was not so defeatist. At that time the national debt (as a percentage of Gross Domestic Product) was three times the current debt.
Yet the country managed to create the NHS, create proper pensions and instigate the biggest social housing programme ever seen.
By all means report on the current financial crisis facing the council, but don't fall for the Con-Lib spin that there is no alternative.
Let's have a real debate about the so-called 'crisis'. Let's learn from the rebuilding in the USA after the depression.
If Edinburgh is sold off, it will not just be the essential public services that are cut, but the thousands of businesses that rely on them.
Sold off to multinationals with no base in the city, not for efficiency but for profit – and to allow councillors to pass the buck and say, "it was the big company that didn't deliver, not us".
The cuts we face are ideological, not financial. We need to wake up to that.
John Stevenson,
President,
UNISON, City of Edinburgh Branch
Click here for the original Evening News feature