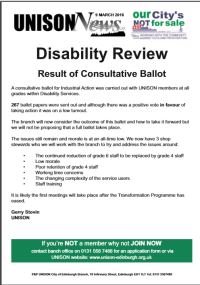 A consultative ballot for Industrial Action was carried out with UNISON members at all grades within Disability Services.
267 ballot papers were sent out and although there was a positive vote in favour of taking action it was on a low turnout. The branch will now consider the outcome of this ballot and how to take it forward but we will not be proposing that a full ballot takes place.
The issues still remain and morale is at an all-time low. We now have 3 shop stewards who we will work with the branch to try and address the issues  the first meetings will take place after the Transformation Programme has eased.
Gerry Stovin