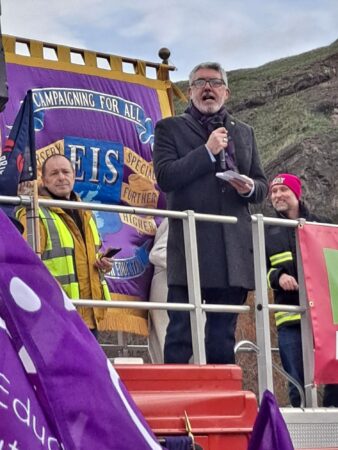 Thursday 24 November saw teachers on strike for the first time in decades. Members of the EIS trade union gathered outside the Scottish Parliament to coincide with First Minster questions, sending a strong message to the Scottish Government that they must improve the current pay offer.
UNISON activists had earlier joined strikers on their picket line outside the City Chambers, and again at the parliament demonstration, which saw over a thousand trade union members and campaign groups listen to speeches from members of the EIS, STUC and Fire Brigade Union (FBU), who provided the speakers platform in the form of a converted fire engine.
Further EIS strike dates have been announced for January 2023, if a revised offer is not tabled. Two other teaching unions, TSSA and NASUWT will also announce industrial action dates in the coming weeks. The EIS strike action took place on the same day that UCU university lecturers were on strike. The FBU and NHS trade unions have also balloted for industrial action and UNISON continue to support our comrades in CWU and RMT who have been taking action for the last seven months.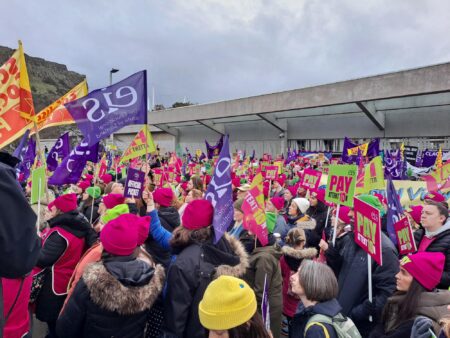 Ian Mullen, branch service conditions officer said, the Scottish Government put aside £20m for a referendum that now won't take place and has underspent their UK central budget by millions since 2016. It's now time to open the war chest and pay workers a decent living wage, especially now with a cost-of-living crisis, food, and fuel poverty. It's hypocritical to hear the Prime Minster and Governor of the Bank of England talking about being realistic about pay claims when Sunak's wife earned £11m last year and the Gov. of the Bank of England earns £26,500 per month after tax.