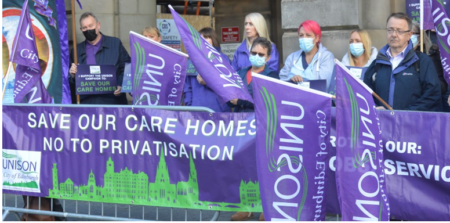 Click here to send a campaign letter – #SaveOurCareHomes
In 2021 UNISON spearheaded a campaign to protect Edinburgh's care homes from closure.
The #SaveOurCareHomes campaign, supported by the public and many of our elected representatives, succeeded in keeping Clovenstone, Ferrylee, Fords Road and Jewel House care homes open as well as securing a manifesto pledge from the majority of the political parties to upgrade these homes to meet the most up to date standards and to build additional care homes where and when needed.
Unfortunately, a decision was made by the Edinburgh Integrated Joint Board (EIJB) – which commissions health and social care services from the city – to remove Drumbrae Care Home from residential care.
A catastrophic blunder which has left a much needed 60 bed unit empty for well over 12 months and at great cost to the taxpayer with press reports putting the figure at £3 million. 
This does not appear to have given the EIJB pause for thought and they continue to advocate for the privately run profit-based companies and the removal of council run services.
Edinburgh's older people deserve better and that is why UNISON continues to campaign and fight for council run care homes for the people of Edinburgh and those future generations who will benefit from the retention of these high-quality services.
UNISON ask that you join us by using the above link to send a campaign letter to your constituency and list MSP's.
The more people who participate, the more politicians must listen. 
You can also share with your colleagues, friends & family.
Click here to send a campaign letter – #SaveOurCareHomes
UNISON's campaign letter has five asks for politicians:  
– Write to the Edinburgh Integrated Joint Board and make them aware of your concerns regarding the above failures.

– Engage with your colleagues at elected councillor level to make sure that they keep to their May election manifesto promises on social care.

– Use your influence to reverse the current direction of travel by supporting Edinburgh's council run care homes.
– Ensure that the proper levels of scrutiny are in place to prevent further blunders such as Drumbrae happening again.
– Ask the Scottish Government to scrap the current National Care Service Bill.
Click here to send a campaign letter – #SaveOurCareHomes
_____________________________________________________________________________________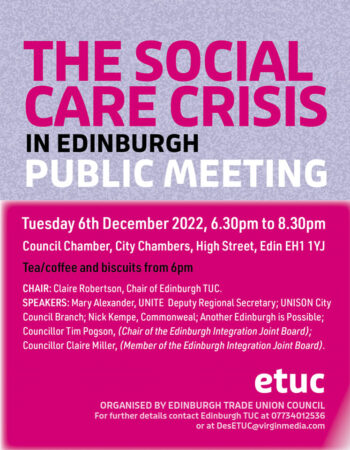 Social Care in Edinburgh Public Meeting – Tue 6 Dec @ City Chambers, 6.30pm
Join UNISON and other Edinburgh campaigners to discuss the current crisis in Care. Including how to get involved with UNISON's campaigns to #SaveOurCareHomes & the National Care Service.
Click here to send a campaign letter – #SaveOurCareHomes
National Care Service Campaign
E-brief The National Care Service Bill & the NHS
______________________________________________________________________________________________________________________