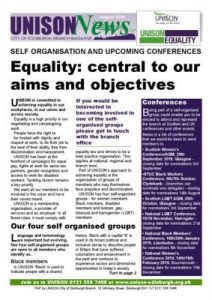 During periods of sustained cuts to public services it is the case that the most disadvantaged groups tend to suffer most.
As we see cuts to the number of staff throughout the council, the community and voluntary sector and related sectors the risk of discrimination grows.
UNISON City of Edinburgh Branch is committed to encouraging the active involvement of members who are likely to face added disadvantage as a result of the cuts to jobs and services.
If you would be interested in becoming involved in one of the self-organised groups please get in touch with the branch office.