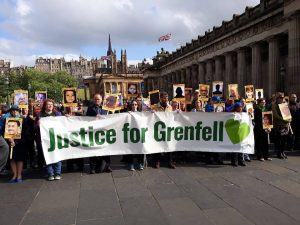 Ian Mullen, branch health and safety convener, made this speech at the Grenfell Tower vigil in Edinburgh on 14 June 2018.
Thank you all for attending tonight. We all remember the tragic scenes of the Grenfell tower disaster on the 14 June 2017. 72 innocent men, women and children lost their lives in a tragedy which could have been avoided.
At 11:54 pm that night, 200 firefighters and 40 fire engines responded to the fire at the 24 storey block with 129 flats, in North Kensington.
What started as a small fire in a fridge freezer on the fourth floor quickly escalated to engulf the exterior of the block, trapping residents in their flats.
The numbers of fatalities could have been substantially more if the firefighters hadn't rescued another 65 residents from the building.
Isn't it ironic that a decision was taken during an £8.6m refurbishment in 2016, to replace the proposed cladding with cladding that was less fire resistant, saving £300,000.
Following the refurb, residents' concerns were ignored when they highlighted that the block was a fire risk with only one single stairway and access for emergency service vehicles severely restricted.
This tragedy threw into sharp focus a huge income inequality gap in this country. Penny pinching on these flats killed people and left many still not properly rehoused, while flats and houses within a stone's throw away lay empty as investments for the rich.
The aftermath of the fire seen the local authority and government severely criticised and a number of resignations followed, quite rightly.
Surveys on 228 other buildings with similar cladding followed the fire. All failed fire safety tests.
With a public enquiry now taking place hopefully the loved ones of the deceased and the survivors will get the answers they deserve. This tragedy was avoidable, but it's not only a tragedy, it's a crime!
Tonight, we stand here remembering those who lost their lives that night, we also stand here to show our support and solidarity for the survivors, for the brave men and women of the emergency services, especially the firefighters. To the local community and local authority workers who did so much to help those effected.
And if I can say one last thing directed to our trade union colleagues in the FBU. UNISON stands together in support and solidarity with you against the scum press and some politicians who have tried to blame the firefighters' advice on the night. These people should be ashamed of themselves.