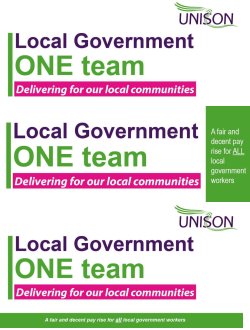 UNISON's Scottish Local Government Committee thanks everyone for the excellent campaign focusing on education under the theme: "It's ONE team – we all deserve fair pay".
This is now being extended to the whole of the local government membership. A new postcard (right) is being printed and will go out to members as soon as possible. We are asking all members to send the postcard to the President of COSLA before the next meeting of COSLA leaders on 31 August.
Any improvement to the pay offer would have to be put to, and signed off at, this meeting, so the intention is to ensure they know members' strength of feeling before any decisions are taken. Click here for more information and social media cards on the UNISON Scotland site.