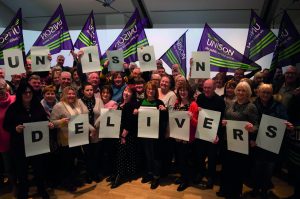 UPDATE: Pay date in City of Edinburgh Council:
We have been informed by the employer that the rise and back pay will be paid in April. Our colleagues in payroll will be spending all of their time working through many different calculations over the next view weeks.
The employer will be sending information out to staff via the Orb, posters, in management communications and in pay slips. They are aware that some staff do not always receive their pay slips therefore, they along with management will ensure the information is passed on.
There may be concerns for members in receipt of Universal Credit or other benefits. If you are going to face potential financial difficulties the employer is prepared to work on individual cases so please contact your manager or call MYHR.
Dear Member,
Thank you to all of you who voted in the recent local government pay ballot.
91% of you voted, and in record numbers, to accept the employers offer.   We communicated that to the employer as soon as the ballot concluded.
Since then we have been waiting on the outcome of the two other Scottish Joint Council (SJC) trade unions internal consultations.  The GMB ballot has now also delivered a vote to accept the offer.  The Unite ballot delivered a rejection of the offer.
It was therefore by majority vote on the trade union side at the SJC meeting today, 1st March 2019, that the offer was accepted.
Remember the key elements of the deal are:
2018/19 – an increase of 3.5 per cent for everyone earning up to £80,000 (for those earning above this a flat rate of £1600 will apply.)
2019/20 – an increase of 3 per cent.
2020/21 – an increase of 3 per cent.
Allowances to be up-rated by the same percentage increases above.
In each of these three years the Scottish Local Government Living Wage will rise by the percentage uplift referred to above.
Full consolidation of the Living Wage, with Councils aiming to achieve this by March 2021.  In exceptional circumstances, and where agreed with the Joint Trade Unions, an extension to this can be agreed, which will incorporate a firm commitment of a final implementation date for consolidation of 2022.
Reaffirmation of COSLA's policy statement on pay parity across the Local Government workforce.
A commitment to re-open negotiations with the Joint Trade Unions in the event of another Local Government bargaining group's total pay offer value being revised such that it becomes greater than the sum agreed between COSLA Employers and the SJC Trade Unions for the SJC workforce for the period of the agreement.
The award for 2018 will be backdated to the 1 April 2018 application date.
COSLA will now write to all councils asking them to process payments.  The award for 2018 will be backdated to the 1 April 2018 application date.  COSLA anticipate that most councils will be able to implement the deal in March salaries – we have asked for details of which councils will not be able to make this implementation timescale and will communicate those details as soon as we have them.
We know that this has been a long and drawn out process and we thank all members for their patient understanding.
Thank you too for all your work during this campaign – it has been your engagement, the campaigning in your workplaces and your lobbying efforts that has meant that by our collective efforts we have secured the best pay deal in local government in a decade.
We know there is more to do and many more issues to tackle in Local Government so we need to maintain that momentum to achieve change in those too.
Best wishes,
Johanna Baxter
Head of Local Government (Bargaining)