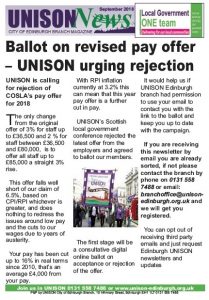 UNISON is consulting members with a recommendation that you reject the latest local government pay offer. Update: The online ballot is now under way from 16 October to 7 November. Vote online here!
To ensure we can consult members we need to be sure that your details are up to date and an email address would be really helpful to keep you up to date with what might be fast moving events.
Check we have your correct details at MyUNISON. Or phone the branch at 0131 558 7488 or UNISON Direct on 0800 0 857 857. Only members can vote. Not a member? Join here
The bulletin on this page was emailed out to all members for whom we have an email address. If you didn't receive it, it means we either don't have your email address or you have ticked on application that you don't want to receive emails.
To give us your email, please contact the branch by phone on 0131 558 7488 or email:
branchoffice@unison-edinburgh.org.uk and we will get you registered.
You can opt out of receiving third party emails and just request Edinburgh UNISON newsletters and updates.
Meanwhile, have a read of the briefing on this page to find out what the pay offer is and why UNISON is recommending rejection.
Click here for all the details about the claim, the offer and the campaign on the UNISON Scotland site