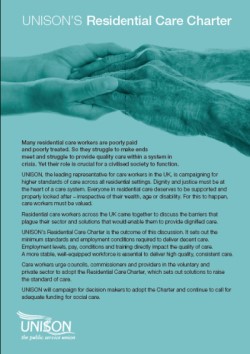 Commissioning authorities and employers are being urged to adopt UNISON's Residential Care Charter.
Residential care workers across the UK came together to discuss the barriers that plague their sector and solutions that would enable them to provide dignified care.
Many residential care workers are poorly paid and poorly treated
Struggle to make ends meet
Struggle to provide quality care within a system in crisis
Dignity and justice must be at the heart of a care system
Their role is crucial for a civilised society to function
Care workers must be properly looked after
Minimum standards and employment conditions required to deliver decent care
Further details can be found here
If you would like to get involved please contact us at the branch office on 0131 558 7488.