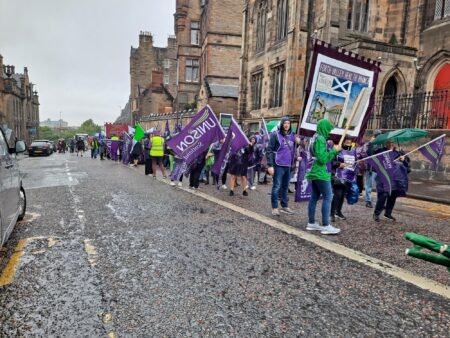 Thursday 8th September, saw hundreds of trade unionists from across Scotland brave the torrential rain to join the STUC Scotland Demands a Pay Rise demonstration in Edinburgh.
The demonstration from Johnston Terrace down the Royal Mile to the Scottish Parliament coincided with the first day of the CWU Postal Workers strike and the week local authority trade unions started the consultative ballot on whether we accept or reject the employers new pay offer.
As we got to the Scottish Parliament the Fire Brigade Union (FBU) could not have provided a more appropriate platform for the speakers, a converted fire engine, fitting as the FBU prepare to go out to consultative ballot on strike action in the coming weeks.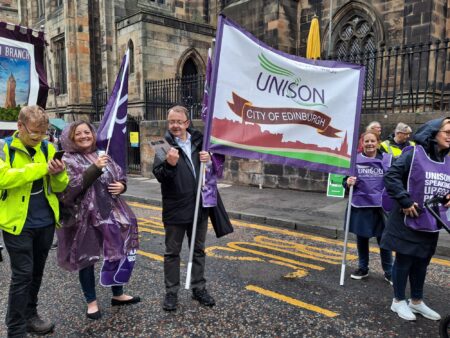 Roz Foyer, STUC General Secretary, led the first of many speakers highlighting the industrial action currently taking place, the cost-of-living crisis, difficulties with anti-trade union laws and the STUC continued support for all workers taking industrial action.
Tracey Dalling, UNISON Regional Secretary, spoke about the strike action leading to the latest revised offer to local authority workers. The First Ministers involvement in the negotiations, stating that more money has to be found for decent pay deals as the NHS go out to ballot with a recommendation to reject their latest pay offer.
Other contributions came from CWU, Unite, EIS, FBU and Mike Hogg, RMT Regional Secretary, who made a rousing speech about the rail workers ongoing strike action, which has been well supported by our branch.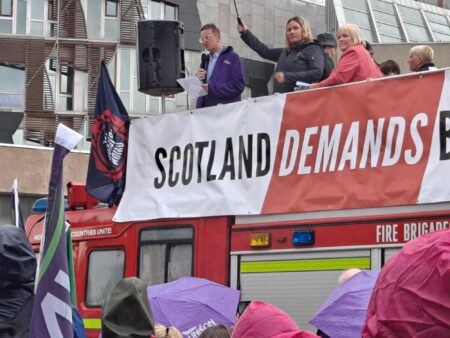 This comes at a time when the new PM has made it clear that she wants further restrictions on trade unions, which we must fight as part of a national campaign to repeal the anti-trade union laws.
The rally couldn't have been timed better as we were joined by several MSPs who were preparing for First Ministers Questions, this sent a clear message to the SNP Government that workers were not going to sit back and do nothing as we get pushed further into poverty and lower living standards.