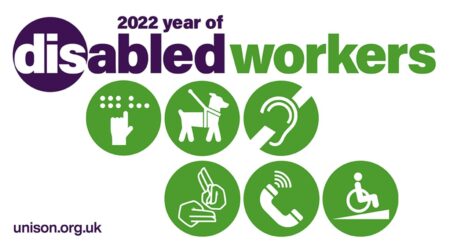 UNISON City of Edinburgh Branch will be holding a Reasonable Adjustments Presentation on Thursday 28 April 2022, 5pm – 6pm. The presentation will be held via MS Teams and led by Margaret Callander, NHS Lothian, and will last 20-30 minutes followed by a Question-and-Answer session.
The MS Teams joining link has been circulated to all branch representatives. If you are a branch member and want to attend, please contact the branch office on 0131 558 7488 or email branchoffice@unison-edinburgh.org.uk
UNISON have committed 2022, to the Year of the Disabled Workers click here for further details
All Scottish branches have been asked to make three commitments over the year:
To appoint a branch disabilities contact.
To place the Year of the Disabled Workers on the branch agenda as a focus throughout the year.
To commit to carry out activities to mark the Year of the Disabled Workers, in a show of support and solidarity for our disabled membership.