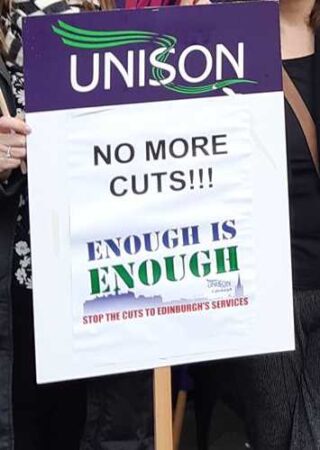 UNISON city of Edinburgh branch has raised fears about the further budget cuts being presented to the city's full council meeting today and condemns both the Scottish and UK governments for the continuing underfunding of Local Government.
Over the past 10 years the council has seen hundreds of millions of pounds slashed from its budget resulting in hundreds of job losses, cuts to services, and the closing of third sector organisations.
"Local government is at the point of collapse and the Scottish and UK Governments have done very little to prevent its demise while at the same time due to COVID-19 has asked it to do more," said the union's branch secretary Tom Connolly.
"Providing services from the cradle to the grave, local government and the services it provides impact on all citizens. The continuing underfunding can have a serious impact on the effectiveness of the services being provided."
UNISON, the biggest union representing workers in Edinburgh council,  says that those employed in local government are fire fighting to keep services running, they feel undervalued and the increasing high levels of stress amongst staff is an example of the negative impact on the health and wellbeing of those staff.
UNISON's Plug the Gap campaign https://www.unison-scotland.org/protect-our-council-services/ has called on the government to bridge the £1 billion funding gap in local Government. COSLA has also called for the action to be taken to bridge the Funding Gap.
"Everyone suffers if Local Government is not provided the funding that it needs to provide meaningful services across our communities," added Tom Connolly.
"Staff in local government need to be rewarded and paid well for the jobs that they do, there are many low paid workers in local government providing face to face support to or most vulnerable children and adults, in school, care homes etc.
"Other council staff keep our public buildings clean, keep our roads clear, clean our streets and empty our bins, administrative and clerical workers dealing with benefits and other essential administrative tasks, all examples of low paid and undervalued workers who have continued to keep the city running.
"These workers now need to be given the value that they have always deserved and rewarded with decent pay and conditions. Clapping does not pay the bills."