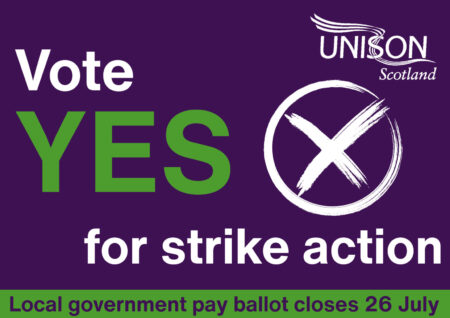 Just before the end of the school term, tonight marks our last online members meeting about the LG Pay Strike Ballot.
Below you will find a link to the session.
UNISON Members – Pay Strike Meeting 4 – Tue 28 June – 5.30pm
Hopefully you will have received a ballot by now and returned it. It is really important that all members vote – if turnout is less than 50% the ballot result cannot be used and we cannot take lawful industrial action.
The purpose of each meeting is to brief each member on how we got to this point and offer members the opportunity to ask questions and get involved with the pay campaign.
Please feel free to forward this email on to any of your colleagues who may wish to take part.
Ballot Help – contact info if you haven't received a ballot yet:  
• For assistance during the ballot period members should contact the ballot helpline or email LGPayScot@unison.co.uk
• The Ballot Helpline is on 0800 0 857 857 and will be open from 8am on the 15th June 2022 to 12 noon on the 20th July 2022.
Kind regards
Greig Kelbie
Regional Organiser 
Digital Organising Lead