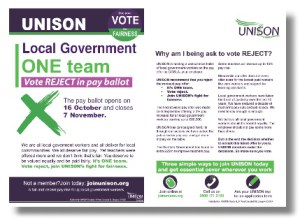 The ballot is now closed.
UNISON's call for you to reject the 2018 pay offer is about fairness for the whole local government team.
The final revised pay offer was made on 6 September offering a 3% pay increase for all local government workers earning up to £80,000.
UNISON has campaigned hard, its through our actions we have ended the public sector pay cap, and got more money on the table.
The Scottish Government has found an extra £25m to improve teachers pay. Some teachers will receive up to 10% pay rise.
Meanwhile our offer does not even offer extra for the lowest paid workers like care workers and support for learning assistants.
Local government workers have taken the brunt of austerity over the last 10 years. We have endured a decade of real terms pay cuts and job losses. We need to say enough is enough.
We believe all local government workers should be treated equally. The employer should not pay some more than others.
But in the end the decision whether to accept this latest offer is yours. UNISON members make the decisions. So make sure you vote.
Make sure you use your vote!
Encourage your fellow members to vote.
Recruit your colleagues to the union and get them to vote.
Share this info on your social networks so people understand why the offer is unacceptable.
Get involved in the work of your local UNISON branch.
Click for posters, leaflets, social media graphics for you to use to encourage fellow members to vote and publicise the ballot…
Click here for all the details about the claim, the offer and the campaign on the UNISON Scotland site