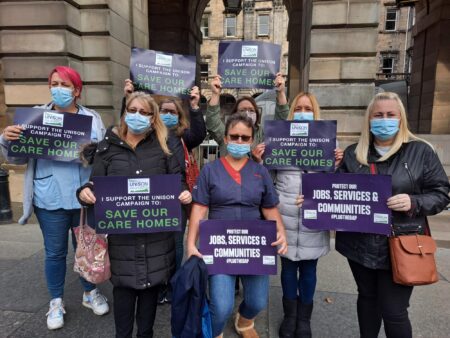 UNISON, the union for carers, has expressed deep dismay at the decision to close an Edinburgh care home.
The decision was passed by the Edinburgh Integration Joint Board (IJB) – which commissions health and social services from the City – at a meeting yesterday (Tuesday).
UNISON, Scotland's largest union, has been campaigning to prevent the closure of five council-run Edinburgh care homes, including Drumbrae.
A further four council-run home – Ferrylee, Clovenstone, Fords Road and Jewel House are all being earmarked for closure but subject to public consultation.
Tom Connolly, UNISON Edinburgh City branch secretary, said: "The people of Edinburgh can feel very let down by this decision to close a much-needed local service, not least the elderly and vulnerable who reside in the care home and now face an uncertain future.
"UNISON will continue its campaign to save public sector-run care homes and prevent them going into private hands. People need to come before profit and UNISON will continue its fight to save Edinburgh's public run care homes and call for all private run care homes to be brought into the public sector."
Greig Kelbie, UNISON regional organiser, said: "The decision to close Drumbrae was made without any public consultation and is a real slap in the face to the most vulnerable people in the city.
"UNISON understands there is a substantial waiting list for homes in the area, so if the need hasn't gone away then why should the services?"