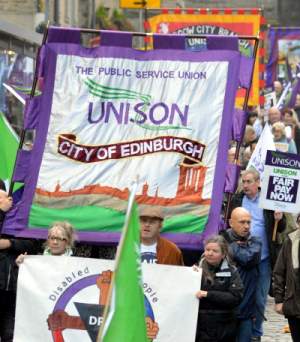 Over 5,000 public service workers marched through Edinburgh on 7 October as part of UNISON's Pay Up Now! Campaign, which is keeping pressure on both the Scottish and Westminster governments to end the pay cap and give all workers a decent pay rise.
Public service employees have seen their pay held back right across the UK for almost a decade. Public sector pay rose by just 4.4% between 2010 and 2016, while the cost of living rose by 22%.
The rally was addressed by Lilian Macer, UNISON Scotland convener, general secretary Dave Prentis and Gordon McKay, the union's senior vice president.
Click here for photos on Facebook and video clips of Lilian Macer, Dave Prentis and Gordon McKay on YouTube
Lilian Macer said: "While we welcome the Scottish government scrapping the pay cap, there is still much more to do. Public sector workers play a vital role in our communities, looking after us by keeping us safe, healthy, educated, and cared for.
"We can't accept the end of a 1% pay cap to just implement another pay cap. Public sector workers need pay rises at least in line with inflation and recognition of the pay they have lost for the last decade."
Dave Prentis, general secretary of UNISON said: "The UK and Scottish governments are now under real pressure to give all public service workers a decent pay rise. Employees across our public services have had their pay held back for far too long.
"Classroom assistants, care workers, hospital cleaners and police clerks need a wage rise above the rate of inflation, so they can recoup some of the pay they've lost over the past few years.
"Any pay rises need to be properly funded so they don't mean deeper cuts to jobs and services elsewhere. There must be no selective lifting of the cap for some public servants but not for others. All public sector employees, no matter where they work or what job they do, need and deserve a decent pay rise now."