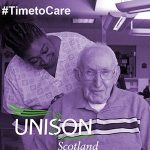 UNISON response to council leader's statement regarding social care provision in Edinburgh.
UNISON City of Edinburgh is relieved that the difficulties in social care which we have raised for so long are finally making the news headlines, and we welcome Michelle Miller's recent statement that social care services are under-funded. We do not like to use the word "crisis" as it can cause great anxiety for vulnerable people and their families, but at this time it is apt.
Over 1500 people are waiting for an assessment of their needs, and almost 800 have been assessed but are then waiting an average of over three months for the required services to be provided, putting additional strain on families, health services and community supports. The situation is exacerbated by the care agencies (eg Bluebird, M Care) which in recent years have pulled out of numerous care packages at very short notice, putting yet more pressure on the in-house services and other care agencies.
UNISON steward Kirsten Hey said "The difficulties facing social care in Edinburgh are a result of years of under-funding and focusing on short-term fixes for delayed discharges. We need good preventative services, more community rehabilitation services, and recognition that quality services provided by a well-trained, consistent workforce cannot be achieved on the cheap. If we want our most vulnerable citizens to be treated as well as they deserve, the Scottish Government and the council have to face facts: good care costs money."
Care workers, whether employed by the local authority or by a private agency, are dedicated, caring and hard-working. They look after some of the most challenging, vulnerable and ill people in our society and they deserve to be valued as well as appreciated. It is no longer acceptable to say that we can't afford to pay these (predominantly women) workers the wage they deserve, a wage which will encourage the right people into the job and motivate them to stay there. We can no longer afford not to.
UNISON City of Edinburgh calls on the Council and the Scottish Government to fully fund social care services to a level which allows care provision to be brought back in-house, where recruitment and retention problems are minimal and quality of service can be monitored more effectively. We also call on the public to demand that our care services are shown the same respect and investment as our health services.