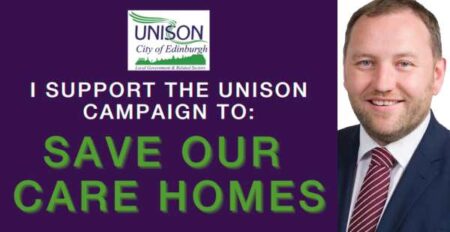 Thank you to UNISON for keeping this critical campaign at the top of the agenda in Edinburgh. I am sorry I can't attend the rally this morning due to having to be in London for parliament.
To even consider such a fundamental change to the most vulnerable elderly residents without even a minimum of any  meaningful negotiations with trade unions and with residents and their families is unforgivable.
The famous saying from Gandhi springs to mind that "the true measure of any society can be found in how it treats its most vulnerable members". We have a duty to ensure that there are excellent public facilities to care for our elderly that is driven by need and not spreedsheets.
Elderly care is becoming more and more complicated which requires the designing of a service that has residents, families, staff and trades unions at its heart.
Keep up the good work and on behalf of all those people affected and their families, thank you.
Ian Murray MP