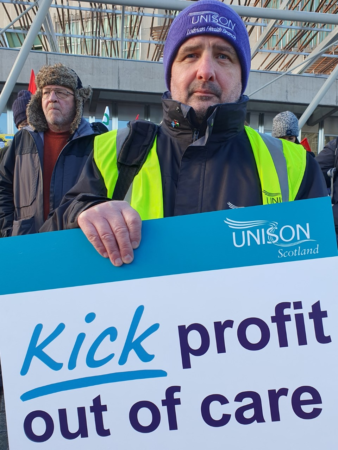 Hundreds of trade union and campaign group members braved the first snow to gather outside the Scottish Parliament at the STUC "Scotland Demands Better" demonstration on Thursday 8 December 2022. Speakers included Roz Foyer, STUC General Secretary and Lillian Macer, UNISON NEC, amongst others.
High on the speaker's agenda was the ongoing industrial action by PCS, Education and University members and proposed action by the FBU, Aslef, and health unions.
Solidarity support was given to the RMT and CWU who have been taking strike action since March, action that has seen CWU trade union representatives suspended or sacked throughout the UK, as the employers play hard ball, whilst supported by a Tory Government hell bent on attacking workers' rights. CWU members will be demonstrating outside the Scottish Parliament on Thursday 15th  December, 10:30-12:00, please come along and support the CWU. The Scottish Government didn't get off lightly with they're handling of industrial disputes and the Cost-of-Living Crisis.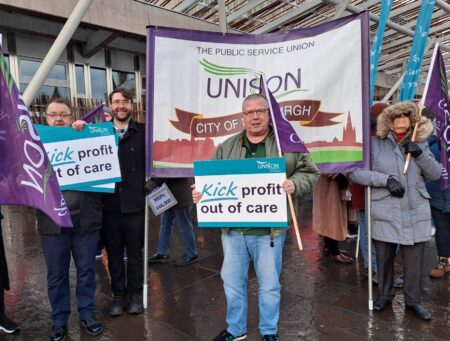 Campaign groups including Living Rent, LGBT+ and Trans Alliance highlighted they're ongoing action against high rents, evictions, and direct discrimination. Environmental, disability and the repeal of the anti-trade union laws received widespread support said Ian Mullen, Branch Health and Safety Officer.